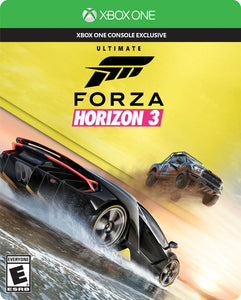 Forza Horizon 3 - Ultimate Edition - PC Digital Key BRAZIL

Take an excellent driving simulation and an open-world structure and it turns out the outcome is Forza Motorsport 3. The third entry in the wildly successful driving franchise developed by Playground Games and Turn 10 Studios is a game for any fan of racing games and diverse gameplay.


Australian adventure

Forza Horizon 3 (PC) takes you to the sunny Australia. and locations such as Surfers Paradise, Yarra Valley, and of course the Outback. If you ever wondered what it would be like to drive a Lamborghini across condensed, but varied Australia-based map, this is the game for you.Coastal towns, rich fields, sandy beaches, the Australian landscapes seen at all times during Forza Horizon 3 gameplay will make your screenshot folder burst at the seams.

Do what you want

FH3 doesn't do anything by half-measure. It said it will have an open-world and it delivers. Drive for hours taking in the sights, endanger traffic with your irresponsible driving, or work on your skill chains in some remote location. You never need to attend events to be entertained.Complete Bucket List challenges, search for abandoned cars in remote barns, or even challenge random AI drivers for a quick match. Whatever you choose, you'll be entertained and will progress towards unlocking something awesome.

Customizable driving

Forza Horizon III is not a simulator. It isn't an arcade driver either. It's in the sweet spot between the two, and gives you the choice to tweak it to suit your needs. If you want a greater challenge, you can remove the drive assists the game has in place, no problem. Things are still too easy? Bump up the AI and see how you fare against your friends' and Forza Club members' Drivatars. Or have a leisurely experience with a symbolic opposition. Your choice, you're the boss.

Satisfying progression

Earn money through races, buy new cars, race more. Gain driver points by doing anything that's more remarkable than staying nicely in your lane, rank up and get a chance to win big in a wheel spin: more cash and new awesome cars are waiting for you! Spent of reward points from another pool to unlock passive abilities making you an even better driver. And that's without even mentioning that you can upgrade your entire festival thanks to fan support!In FH3 you always get something out of going off the beaten path. And how you create your own experience is entirely up to you.

Co-op experience

Driving solo doesn't appeal to you? Get up to three friends and conquer Australian roads together. Not even campaign is barred from you and your driving pals. Complete challenges together or pick someone who's clearly better, and get rewarded for all of it. It's opt-in/opt-out too, no complicated setups, just pop in and have a gang of road warriors of your own ready to roll.

Forza Horizon 3 features:

More than 350 cars - a huge garage of brand new cars and classics to discover, and more are on their way. Get them all, or hunt for your favorites!
Spectacular landscapes - Forza Motorsport 3 is like a love letter to Australian vistas, and gives you all the time in the world to enjoy them
Beautiful cars - FH3 is a visual treat to fans of motorsports. Each car is rendered in loving detail, and the sounds are just about perfect
Customization - customize your cars, customize your difficulty, customize your festival. FH3 gives you options and a toybox, let's you have your own fun
Comfortable co-op - get up to three friends to ride with you. Explore, complete challenges, or move the campaign forward together!
★ Instant delivery after secure payment ★
 Forza horizon 3 digital key xbox.
Forza horizon accounts for sale, forza horizon 3 account. Buy forza horizon accounts. Forza horizon unlock all. Forza horizon 3 mods. Forza horizon 3 modded account.