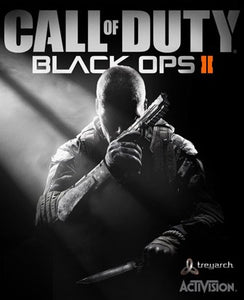 Pushing the boundaries of what fans have come to expect from the record-setting entertainment franchise, Call of Duty: Black Ops II propels players into a near future, 21st Century Cold War, where technology and weapons have converged to create a new generation of warfare.
Key features
Call of Duty: Black Ops II Digital Deluxe Edition includes:
Nuketown Zombies Bonus Map – Battle hordes of Zombies in this beloved 1960s nuclear neighborhood. 
Nuketown 2025 Bonus Map – Relive the close quarters chaos of this classic fan-favorite map re-imagined in a 1960s visionary depiction of the "model home of the future." 
Weapon Camo – Rank-up in style with an exclusive multiplayer weapon skin. 
Player Card Backgrounds – Liven up any killcam with two exclusive player card backgrounds, inspired by Nuketown 2025 and Zombies. 
Official Call of Duty: Black Ops II Soundtrack – A digital copy of composer Jack Wall's epic in-game score with Theme by Trent Reznor. 
Call of Duty: World at War Download Token – A bonus digital copy of a Treyarch classic, which traverses WWII storylines from the Pacific and European theaters of war.